How Negligence is Proven in a Personal Injury Claim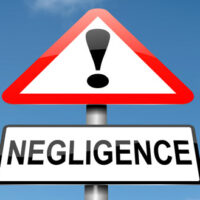 Personal injury claims are the means by which an injured person can pursue financial compensation for the losses they suffered in an unintentional injury event. Though, it is important to note that just because you or a loved one was injured in an accident, that does not always guarantee that you will have a valid claim to make for that compensation. For a claim to be successful, an injury accident must have had one essential element. That element is negligence.
Negligence is the legal term used to describe a failure to behave in a way that is reasonable and that anyone else would be expected to act in a similar situation. For example, when driving, it is reasonable and expected that a driver obeys the rules of the road and engages in safe driving practices. Distracted drivers or drunk driving are a violation of the laws and lacking personal responsibility. If a drunk or a distracted driver causes a car accident, it can be said that they were behaving negligently. As a result, victims would likely have a solid case to make for monetary compensation.
Understanding the personal injury claims process and filing a strong claim that has the best chance of recovering damages can be a tricky proposition for a victim of an injury accident. Especially when a victim is severely injured, taking on a legal battle can be a great deal of work to handle when focusing on recovery is essential. The Portland, OR, personal injury attorneys at the Rosenbaum Law Group have the skills and experience that victims can count on to take on the personal injury claim process on their behalf.
Personal Injury Claims: Proving Negligence 
It is essential that negligence on the part of the individual or entity that you are filing a claim against is proven to have existed. For this to happen, there are four fundamentals of a personal injury claim that are necessary. These are:
The individual that caused your injury accident had a duty of care to you. This means that they had a responsibility to behave appropriately and in a way that would not cause you harm.
The duty of care that the individual that caused your injury accident had was violated. In other words, the individual acted in a way that was not reasonable and was, in fact, reckless.
The breach of duty to you resulted in your injury accident happening.
You suffered damage as a result of your injury accident. Typical damages include medical expenses, pain and suffering, missed wages, and destruction of property.
Speak to an Oregon Personal Injury Attorney Today 
You deserve the most from your personal injury claim. However, it is imperative to obtain the full amount of compensation you need, that you prove negligence. An Oregon personal injury attorney at the Rosenbaum Law Group can help you with this. Call today to schedule a free consultation at (503) 288-8000. Our seasoned team is ready to assist you and we will provide you with superior legal representation. Each of our lawyers has been named to the Super Lawyers list.
Source:
cdc.gov/transportationsafety/distracted_driving/index.html