Mike Rosenbaum (Retired)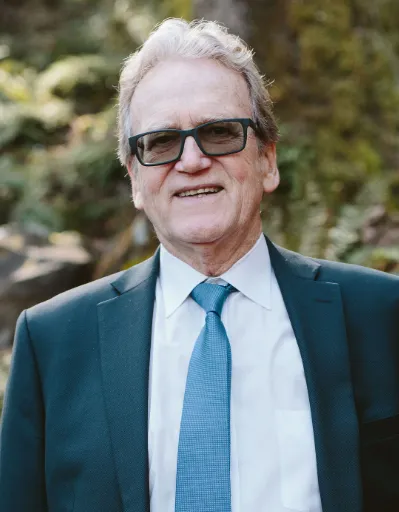 Contact
Call: (503) 288-8000
Email: mike@rosenbaumlawgroup.com
For over forty years, Mike Rosenbaum has represented businesses and injured people. During this time, Mike has received Martindale-Hubbell's highest ranking in their peer-reviewed national directory for lawyers. Mike founded this office over thirty years ago and in that time he has successfully represented thousands of clients. His emphasis is on personal injury, products liability, wrongful death, and general business litigation (which he does for his clients and other lawyers.)
Mike grew up in Carver, Oregon, a small town outside of Portland near the Clackamas River. He attended Carver Grade School and then St. Johns Grade School in Oregon City. Mike graduated from Central Catholic High School where he was elected student body president in 1968. In 1967 he was elected Beaver Boys State Governor for the State of Oregon.
Mike moved to the east coast for college and graduated with honors from Harvard College (1972) and Columbia Law School (1975). During this time, he was one of two Oregon finalists in the Rhodes Scholarship competition. After graduating from Columbia Law School he clerked with the Honorable Otto R. Skopil in the U.S. District Court for the District of Oregon. Following his judicial clerkship, Mike practiced in the litigation department of Stoel Rives before going into private practice for himself.
Mike is currently a member of the Oregon Trial Lawyers Association, the Multnomah Bar Association, and the American Bar Association. In the past, Mike has been a member of the Multnomah Bar Association CLE Committee and a frequent speaker at CLEs on litigation related subjects. On a national level, he was the Chairperson for the American Bar Association Committee on State Legislation.
In his free time, Mike enjoys spending time with family and friends, whitewater rafting, hiking, skiing, and assisting his wife Sherie in overseeing their restaurant, The Stone Cliff Inn.
Awards
AV Preeminent Rated, 2002-14, Martindale Hubbel
Top Lawyers in Oregon, 2013, The Legal Network
Education
Harvard College, BA, 1972
Columbia Law School, JD, 1975
Recent Publications and Presentations
Wrongful Death Settlement Planning, ERISA Medical Subrogation Resolution (Oregon State Bar 2010)
Motion to Compel Discovery, MVA Deskbook (Oregon Trial Lawyer's Association 2015)
UM/UIM Stacking (Oregon Trial Lawyer's Association Annual Convention 2020)
Areas of Specialty
Personal injury
Motor vehicle collision
Products liability
Wrongful death
General business litigation
Memberships