How Are Spinal Cord Injuries Diagnosed?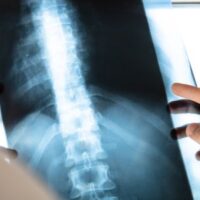 The National Spinal Cord Injury Statistical Center indicates that approximately 12,000 new spinal cord injury cases throughout the United States are reported annually. In 2010 there were a quarter of a million Americans who had a spinal cord injury. Anyone can suffer a spinal cord injury due mainly to the fact that this type of physical bodily harm usually occurs after some type of accident.
If you were injured in an accident caused by another party's negligence and you sustained a spinal cord injury, you may be entitled to file a claim for monetary compensation. Spinal cord injuries are often catastrophic and can cause life-long disability. While filing an injury claim will not heal one's spinal cord injury, it can render a victim the monetary compensation they need to recoup all their losses. For more information on filing a personal injury claim in Oregon, please reach out to an experienced Portland spinal cord injury attorney at the Rosenbaum Law Group.
 Diagnosing a Spinal Cord Injury 
There are many ways that one can be harmed in an injury accident resulting in a spinal cord injury diagnosis. According to the National Institute of Child Health and Human Development (NICHD), the following factors can increase the chances of suffering a spinal cord injury:
Driving or riding in a car, especially without a seatbelt or functioning airbag.
Males make up 80% of spinal cord injury patients.
Not using proper safety protective gear while operating machinery.
Falls from ladders.
Using drugs or alcohol while operating heavy machinery, playing sports, or driving automobiles.
Individuals with bone and joint disorders are more vulnerable to spinal cord injuries.
When a victim of an injury accident is rushed to the emergency room, a doctor may conduct tests to see if it is possible to rule out the existence of a spinal cord injury. Though, if it is suspected that a spinal cord injury could be present, the following diagnostic tests may be done.
X-rays can examine the spinal column and detect fractures or degenerative issues within the spine.
A CT scan can take any abnormalities that are seen from an X-ray and take a closer look into the damage that may exist on the bone and the discs.
An MRI can assess the health of a spinal cord by taking computer-generated images.
Neurological examinations may be conducted after the swelling in the injury area has subsided. These tests can speak to how extensive a spinal cord injury's harm was to a patient. 
Speak to an Oregon Personal Injury Attorney Today 
Spinal cord injuries can lead to considerable and life-changing harm to victims. When another party's negligent acts caused your accident and resulting spinal cord injury, you need an attorney on your side that understands the complexity of spinal cord injuries. It is important to obtain the full amount of compensation you are owed for all of the losses your injury accident caused. Call an Oregon personal injury attorney at the Rosenbaum Law Group today at (503) 288-8000. Consultations are free.
Source:
nichd.nih.gov/health/topics/spinalinjury/conditioninfo/risk