Top 5 Personal Injury Claims In The United States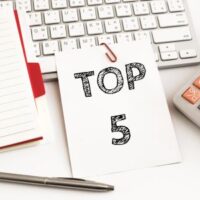 According to the Centers for Disease Control and Prevention (CDC), every year, there are more than 24 million Americans that must see their physician due to an unintentional injury event. Annually, there are more than 24 million emergency room visits for injury accidents. Injury events are usually unexpected occurrences that can happen at no fault of anyone, or they can take place due to the negligence of others. When negligence is a factor in an unintentional injury event, it may be possible for victims to obtain financial compensation for damages that were suffered.
Every victim's injury experience is different, just as every victim's damages can vary. However, it is common for victims to suffer damages that include medical expenses, pain and suffering, property damages, and even missed wages from having to take time off work.
The first thing to do after an unintentional injury accident is to see a licensed medical professional to be examined and to secure a diagnosis and treatment plan. Then, it is typically a good idea to connect with a local attorney that specializes in personal injury law. It may be possible to file a personal injury claim and obtain the compensation necessary to pay for the damages that were sustained. In Oregon, the Portland personal injury attorneys at the Rosenbaum Law Group can help you if you were injured due to the carelessness of another party.
The Most Common Ways that Personal Injury Events Happen 
Personal injury accidents can happen in several ways, though there are certain situations that happen more often than others. The most common personal injury accidents that are reported every year include:
Car Accidents
There are more than six million car accidents reported each year in the United States. In 2021, the Insurance Institute for Highway Safety (IIHS) indicated that the state of Oregon had a population of 4,256,301 people, and that year there were 552 deadly crashes that resulted in 599 deaths.
Bus and Large Truck Accidents
In 2020, there were just under 5,000 fatal large bus and truck accidents.
Slip and Fall/Premise Liability Accidents
Private homes, businesses, and government facilities that are negligent with the upkeep and safety of their property can be liable when slip and fall events happen that lead to injuries.
Medical Malpractice
In 2022, more than 31% of physicians in the United States said that they faced at least one medical malpractice lawsuit, as reported by the American Medical Association (AMA).
Workplace Accidents
Anyone in any industry can be hurt while at work, but some occupations are more dangerous than others. The Bureau of Labor Statistics indicates that truck drivers, farm workers, and construction laborers have the highest risk for injuries and death while on the job.
Call an Oregon Personal Injury Attorney Today 
If you or a loved one was injured by the negligence and reckless actions of another party, you may be able to file a personal injury claim and be compensated for your losses. Call the Oregon personal injury attorneys at the Rosenbaum Law Group today at (503) 288-8000 to schedule a free consultation.
Source:
cdc.gov/nchs/fastats/accidental-injury.htm